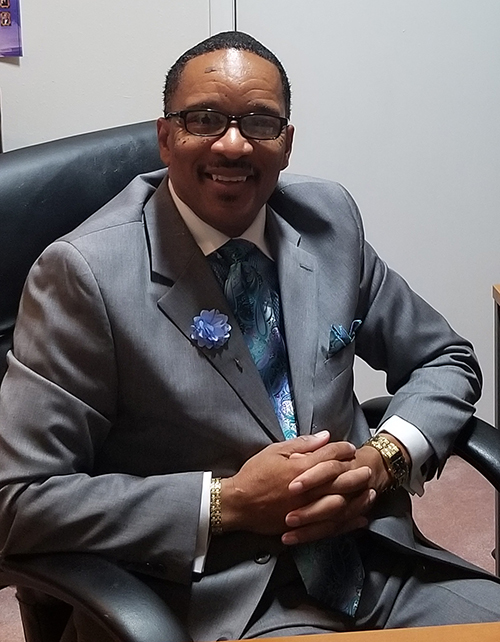 In 1995, Pastor Dewey C. Johnson was called to the ministry. His calling was acknowledged by Pastor Joseph Ward at Grady Memorial Church of God in Christ (COGIC). There he served as an Associate Minister, Church Administrator, and Construction Coordinator. Minister Johnson, at the time, was instrumental in leading the renovations of Greater Memorial's sanctuary.
In 1998, he was then called to the position of Assistant Pastor at the Healing Temple COGIC, where he provided strong leadership in the remodeling and rebuilding of the ministry, as well as an Administrator. He served with Pastor James Lewis and the New Hope family for 8 years.In 2001, Pastor Johnson became an Ordained Elder in the Texas Southwest Jurisdiction.On December 15, 2005, Bishop S.E. Iglehart appointed Pastor Johnson as the new leadership for the New Hope Church of God In Christ family. The membership was approximately 7 members and the church was in dire need of hope, inspiration, and strong leadership. During Pastor Johnson's tenure at New Hope the membership grew to over approximately 50 members and the church received over $15,000 in revitalizations. Pastor Johnson served at New Hope through August 2010.
In August 2010, Bishop S.E. Iglehart raised Pastor Johnson to the next level as the leader of Greater Joy Temple COGIC. In just a short time, he formed his Board of Trustees, continues to increase the overall membership, and completed Phase I renovations (Fellowship Hall and church offices which were apart of the original building structure). Phase II renovations are in the planning stages. These renovations, scheduled to be complete early 2014, will include the paving/fencing of our parking lot and to the internal structure.
Pastor Johnson has a vision and with God all things are possible!
Additional Accomplishments:
General Manager of Food Operations – Our Lady of the Lake University, San Antonio, Texas – supervises a team of 36 managers and associates; overseeing four locations which includes two dining facilities, a coffee shop, and convenience store.
Education
25+ years of experience in the institutional food service
Attended San Antonio College & St. Phillips College; Business/Culinary Education Management
1975 – Graduated Healy Murphy College; earned Restaurant Management Certificate ServSafe Certification